GEORGE LEITENBERGER & RODDY MCKINNON
PHOTOS
PRESSE UND RADIO
RAW LOVE ENTSTEHUNGSGESCHICHTE MIT SOUNDBEISPIELEN
ENGLISH VERSION: THE MAKING OF 'RAW LOVE' WITH SONG SAMPLES
ABOUT THE INSTRUMENTS
1 PHOTOS
George  Leitenberger & Roddy McKinnon, Geneva 2018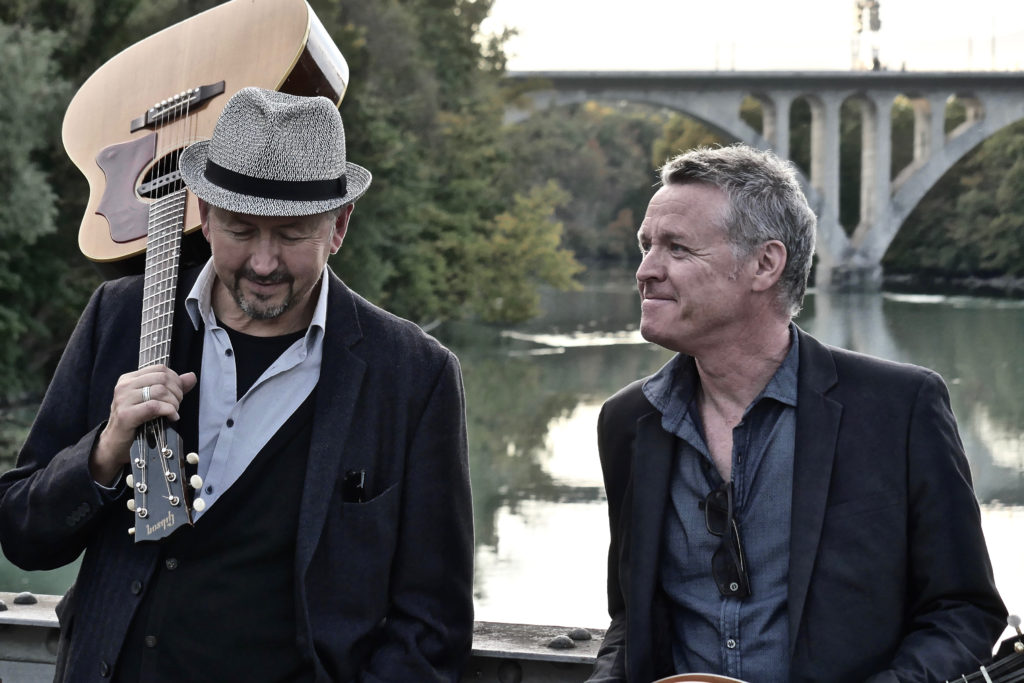 Leitenberger – McKinnon @ Urgence Disk, Geneva 2019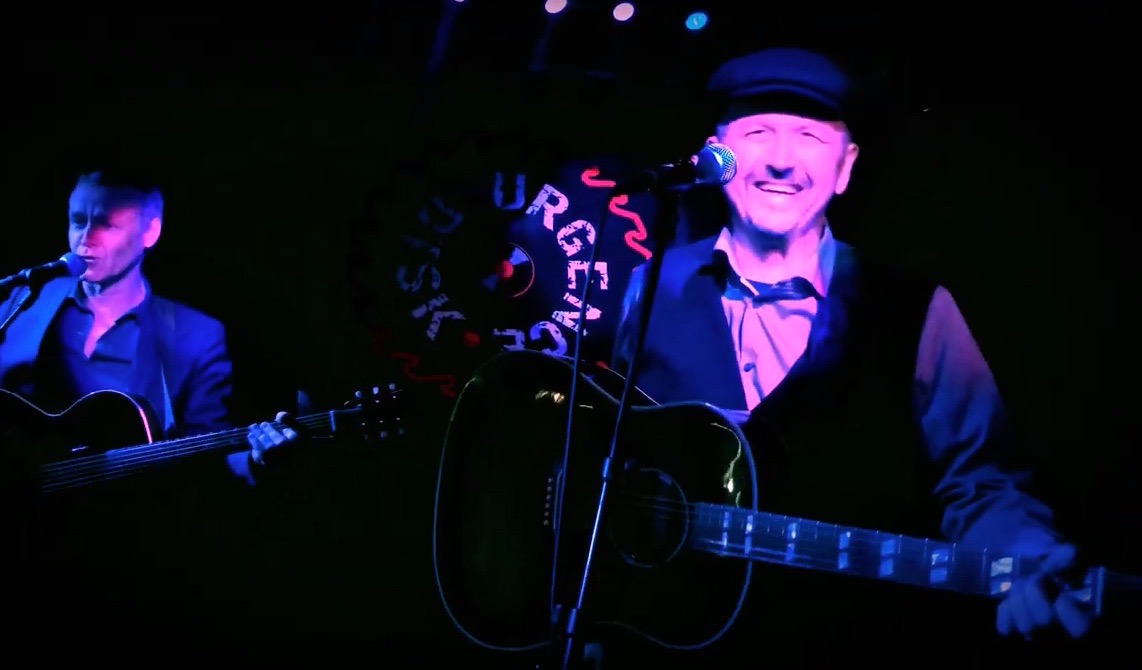 Leitenberger-McKinnon @ Le Box, Carouge, 2017
Leitenberger-McKinnon @ Café Kairo,  Bern 2017
Leitenberger-McKinnon Fête de la Musique, Genève, 2017
Leitenberger – McKinnon (with Martin Kolbe) , Geneva 2019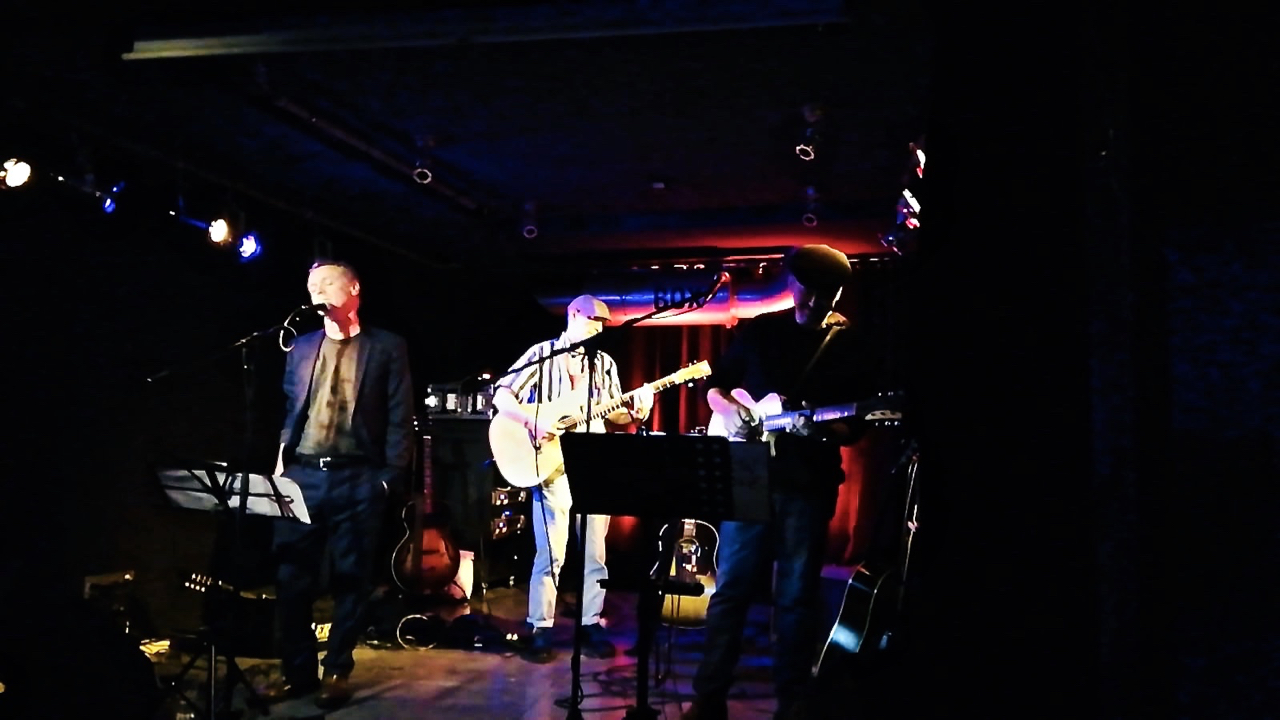 George Leitenberger & Roddy  McKinnon & Co., Berlin, November 2018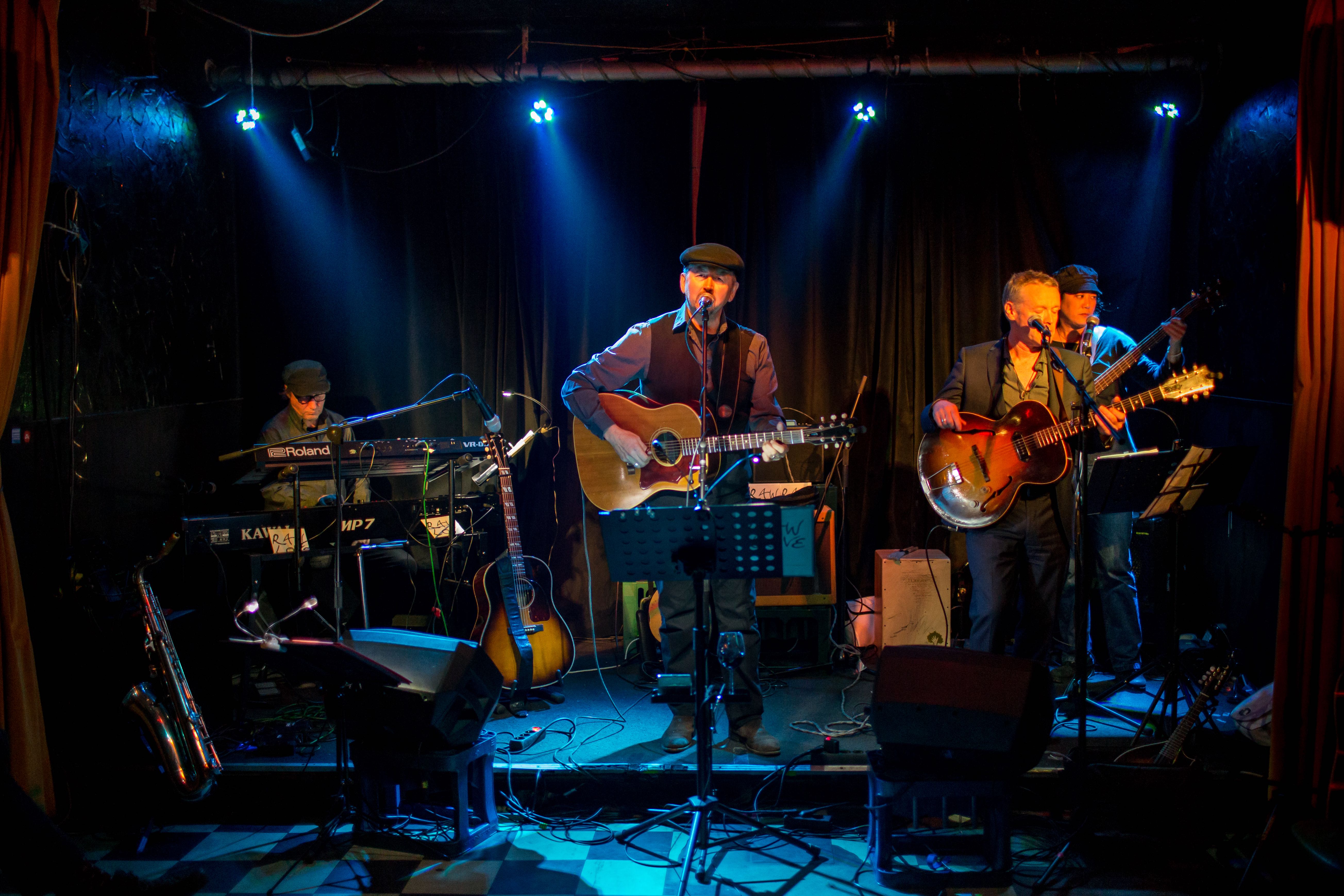 2 PRESSE UND RADIO:
Unsere erste Duo-CD "RAW LOVE" – GEORGE LEITENBERGER & RODDY MCKINNON (2018) wurde für den Preis der Deutschen Schallplattenkritik nominiert:
Hier ist, was die Musikkritikerin Katja Schrader in der Märkischen Oderzeitung über das Konzert am 30.11.2018, dem Tag der Veröffentlichung von RAW LOVE schreibt:
"Ein einzigartiges Konzertereignis."
Intensiv, ehrlich und frei von störender Eitelkeit ist die Musik der beiden Wahl-Genfer. "Raw Love" ist die zweite gemeinsame Platte. Gesungen wird auf Englisch, Deutsch und Französisch. Der Ex-Berliner  und der Schotte machen Musik, die unter die Haut geht, die romantisch und verletzlich klingt, eine Mischung aus Folk, Chanson, Blues und so eigen, dass man sie nicht zuordnen will.  Wenn Leitenberger von der Wüste singt, dann spürt man sie. "Ich hab noch nie so eine laute Stille gehört, wie in der Wüste", sagt er.  Mit trockenem Humor geben sich die zwei einen originellen Schlagabtausch.  Unterstützt wird die Band an diesem Tag von Pianist Klaus Eichberger, der den Stücken eine originelle und unerwartete Würze gibt, hin und wieder auch mit dem Akkordeon und Bassistin Clarissa Mo.  "Wir sind eigentlich ein Gitarrenduo. Wir versuchen, so reduziert wie möglich zu arbeiten", erklärt George Leitenberger. So auch auf dem neuen Album. Dabei ist der Gitarren-Sound schon ein Genuss für sich. Leitenberger ist ein Zustandsbetrachter und schafft es, die Worte, kritisch, direkt und mir viel Poesie in die Musik zu packen. Das Stück "Vorvorgesternmann" handelt von jemandem, dessen Namen Leitenberger niemals auf einer Bühne aussprechen werde. Alleine die erste Silbe "Gau" spreche für sich. Es gehe um einen, der das gesellschaftliche Klima im Land und in Europa zu vergiften versuche. "Wenn der Hunger nach Geborgenheit, dich in die falschen Arme treibt", heißt es da. Roddy McKinnon knüpft im Titel-Song der gleichnamigen CD "Raw Love" ein wenig an seine alten Wurzeln als Punk-Musiker an. "Ich hoffe, wir haben Ihr Herz gewärmt und den Geist angeregt. Wenn es nicht so war, verzeihen Sie. Wir haben es gut gemeint", sagt Leitenberger am Ende des Konzertes. Und da singt Roddy McKinnon noch einmal mit geschlossenen Augen davon, den Moment zu genießen. Und die Frau aus der ersten Reihe, die das Konzert mit einem verliebten Lächeln begleitete, stellt sich neben George Leitenberger, um mit ihm ein gemeinsam geschriebenes Duett so zauberhaft zart zu singen, dass keiner ungerührt bleibt. "Das hier ist übrigens keine geringere als meine Frau", so Leitenberger.
Link zum Artikel: www.moz.de/landkreise/oberhavel/oranienburg/oranienburg-artikel/dg/0/1/1695324/
RAW LOVE ON THE RADIO…
Hier ein Link zur Sendung TONART  im Deutschlandradio Kultur vom 26.11.2018:
Sie liegen auf einer Wellenlänge und machen nun auch gemeinsam Musik: George Leitenberger und Roddy McKinnon haben mit "Raw Love" ein breitgefächertes Album vorgelegt. Songs zum Hinhören, Tanzen, mit einem ganz besonderen Gitarren-Sound.
https://www.deutschlandfunkkultur.de/raw-love-von-george-leitenberger-roddy-mckinnon-raubeiniger.2177.de.html?dram:article_id=434234
George Leitenberger & Roddy McKinnon – Artwork: Marcel Laliberté
3 RAW LOVE ENTSTEHUNGSGESCHICHTE (MIT SOUNDBEISPIELEN) :

14 Speakeasy songs in English & German soaked with Moonshine, Poetry & Vibe
AUSSCHNITTE  VON DEN ROUGH-MIXES ZUM NEUEN ALBUM "RAW LOVE"  WEITER UNTEN.
George Leitenberger & Roddy McKinnon haben ihr erstes gemeinsames Album als Duo und mit Gastmusikern aufgenommen: RAW LOVE !
Produzent der Platte ist Andreas Albrecht, mit dem zusammenzuarbeiten ein grosses Vergnügen war. www.andreasalbrecht.com
Andreas Albrecht                                            Photo:  George Leitenberger
…einem bemerkenswerten Tonstudio in Berlin-Friedrichshain, wo wir alles live einspielten, direkt, rau, mit allen Schnitzern und Schneuzern. 6 Songs von Roddy, 7 von George und als Bonustrack einen Song von unserem kürzlich verstorbenen Freund Andreas Schmidt, dem lebenshungrigen Menschen und profunden Schauspieler, "der das Leben von jedem einzelnen von uns ein kleines Stückchen grösser gemacht hat." – Olli Klatt
GEORGE LEITENBERGER & RODDY McKINNON
"RAW LOVE"
Der Hintergrund
Genau dort, wo in Genf die Rhone und die Arve zusammenfliessen, im Stadtteil Jonction – der "Kreuzung" – ausgerechnet dort begegnen sich 2013 in einer ehemaligen Armaturenfabrik und heutigen Künstlerkolonie zwei Musiker mit sehr unterschiedlichen geographischen und kulturellen Backgrounds: Roddy McKinnon aus Glasgow und George Leitenberger aus Berlin, zwei Songschreiber und Gitarristen, von Arbeit und Liebe an den Léman verschlagen und musikalisch und thematisch in einer Vielzahl von Stilen zu Hause.
Ziemlich schnell wird nach einigen gemeinsamen Gigs klar, dass die beiden gemeinsame Wege gehen werden, mit dem Ziel, in ihrer Art einzigartige Songs zu schreiben und zu spielen – und das auf Deutsch, Englisch und zuweilen auch auf Französisch. Denn das sind die drei Sprachen, mit denen beide tagtäglich sowohl privat als auch beruflich zu tun haben.
George und Roddy sind vom musikalischen Background des jeweils Anderen fasziniert: Bei Roddy sind das Rock'n'Roll, Punk-Rock und Blues, die jubilierende Spielfreude der sogenannten Celtic Music, sein trockener, eigener und klischeefreier Gitarrenstil und seine kompromisslosen Texte, bei George die Einflüsse von Brecht/Weill und Delta-Blues, das Schräge, zuweilen frontal Kritische, aber auch Romantische zugleich.
Nachdem Roddy McKinnon bereits auf George Leitenbergers letzter Solo-CD "AUTOVIA" (2016) an Gitarre und Mandoline zu hören war ("Grossartig", "Famos" , "Meisterhaft" etc.) und die beiden zusammen mit anderen Musikern in den vergangenen Jahren zahlreiche Gastspiele in Deutschland, Frankreich und der Schweiz gegeben hatten, gingen sie eine knappe Woche lang in Berlin ins Studio, um dort unter der Regie von Andreas Albrecht (Manfred Maurenbrecher, etc.) ihr erstes gemeinsames Duo-Album aufzunehmen in Deutsch und in Englisch: RAW LOVE
Der Sound
Ziel war ein Singer/Songwriter-Album mit einem Sound , wie er sonst eher auf Jazz-Labels wie Blue Note oder Verve in den späten 1950er-Jahren zu hören ist: Ungeschminkt, mit einem absoluten Minimum an plug-ins, inklusive Verspieler und kleiner Versinger.
"Wir sehnten uns danach, dass unsere Vintage-Instrumente auch auf Platte so klingen, wie sie klingen: Warm, holzig, erdig, rau und tief – nach RAW LOVE. Andreas Albrecht hat sofort kapiert, was wir wollten und das souverän geschultert."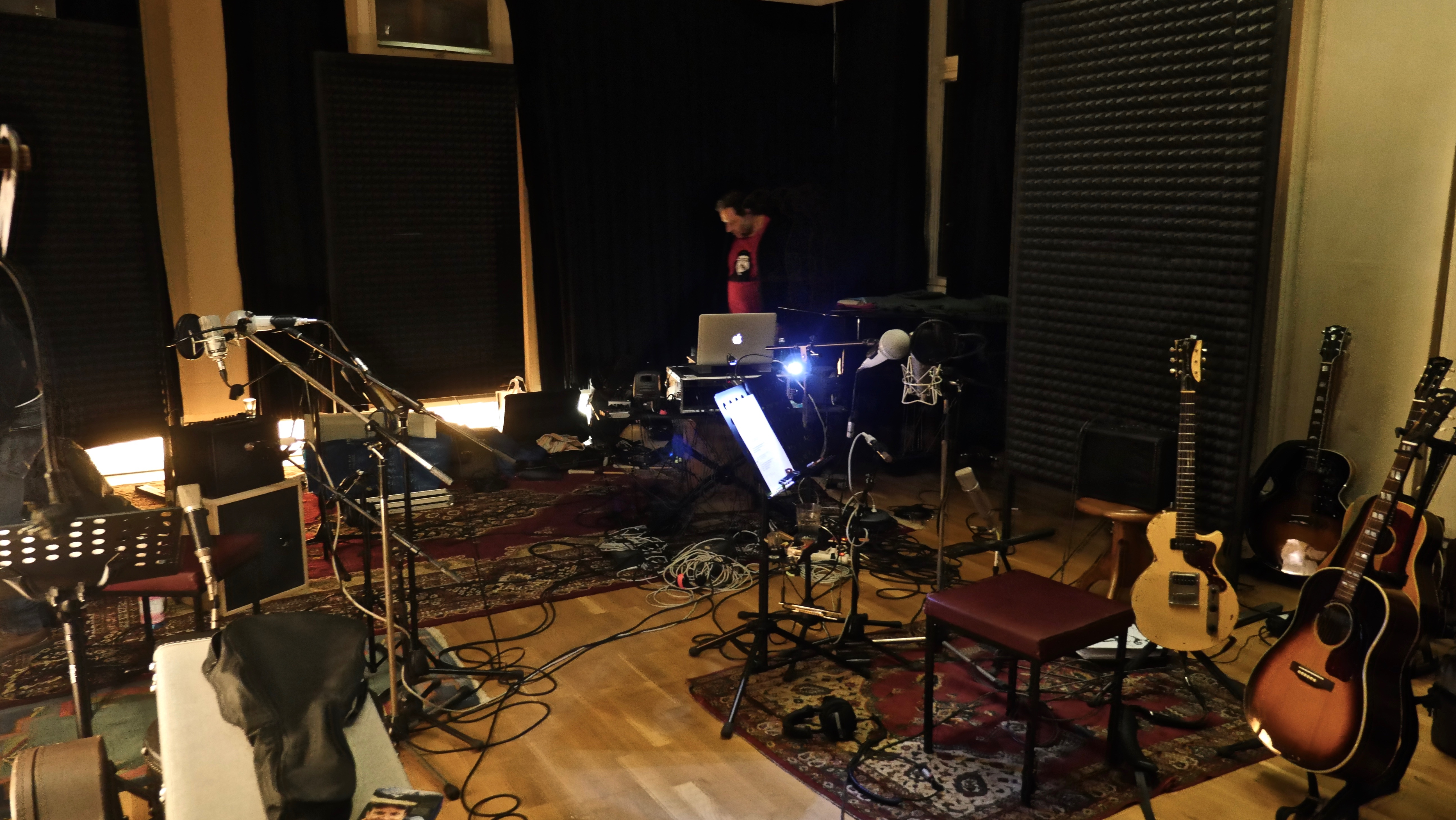 Zu den einzelnen Songs gleich mehr, sie handeln nicht wenig vom Sterblich-sein, von Verrat, Diebstahl und Intrige, vom Sich-Verlieren und Finden. Und von Liebe. Roher Liebe und ihrem Gegenteil.
Die Musiker
Natürlich ist die Platte vor allen Dingen ein Duo-Projekt. Das Duo, das George & Roddy seit Jahren betreiben, sollte überall gewissermassen "wahrnehmbar", sprich hörbar bleiben und nicht von zu vielen anderen Instrumenten und Stimmen "zugestellt" sein. Bei den Möglichkeiten der heutigen Technik ist das die vielleicht grösste Versuchung, der unserer Meinung nach sehr viele Musiker und Produzenten erliegen: Die Überproduktion. Nichts einfacher, als Songs "aufzublasen", "fett" zu machen  – und damit dann auch grandios zu scheitern. Unzählige tolle Songs hören sich im Wohnzimmer oder im Proberaum klasse an und erleiden dann dieses Schicksal. Wir  mögen einfache, gut gemachte Dinge – egal, was es ist – und  wenn es einen Grundgedanken gibt, der sich von Anfang bis Ende durch unsere Platte zieht, dann diesen: Einfachheit, Klarheit, Transparenz. Ausser im letzten Song, dem Bonus-Track, der im Gedenken an Andreas ganz bewusst ganz anders arrangiert und auch gesungen wurde, gibt es kein Schlagzeug und auch sehr wenig klassisches Song-Arrangement. Und dennoch sind auf gut der Hälfte der Lieder Freunde und Kollegen zu hören, deren Können den Songs hier und da noch das gewisse Etwas an Klangfarbe live hinzufügt:
Andreas Albrecht produziert und spielt Schlagzeug und Hammond B-3 auf HARTE MÄNNER WEINEN, sein Berliner Max Dreyer Piano » auf SILENT SKIES und singt Backing Vocals auf GRABWÄRTS.
Klaus Eichberger spielt Akkordeon auf WIEDER GESUND und GRAND HOTEL DESORIENTE.
Tobias Fleischer spielt E- u. Kontrabass auf RAW LOVE, VORVORGESTERNMANN, GRABWÄRTS, LASS MICH EINFACH, WIEDER GESUND und HARTE MÄNNER WEINEN.
Andrea Katzenberger singt backing vocals auf GRABWÄRTS, RAW LOVE und VORVORGESTERNMANN und natürlich auf HARTE MÄNNER WEINEN.
Olli Klatt spielt Stromgitarre auf HARTE MÄNNER WEINEN und "stürmt" im Chor für Hertha…
Manfred Maurenbrecher singt mit George den VORVORGESTERNMANN.
Sebastian Pietsch spielt Tenor-Saxophon auf LASS MICH EINFACH, HAIRPIN, VORVORGESTERNMANN, HARTE MÄNNER WEINEN.
Und auf dem Bonus-Track, dem Song HARTE MÄNNER WEINEN von Andreas Schmidt, bilden seine Freunde den begnadetsten gemischten Chor jenseits des Salt'n Bone:  Peter Baumeister, Andrea Katzenberger, Thomas Karg, Oliver Klatt, Stefan Lochau, Bernd Löhr, Zoe Moore, Eoin Moore, Steffen Münster, Elke Weber-Moore.
Das Studio
Die UFO-Sound-Studios befinden sich in Berlin-Friedrichshain www.ufo-studios.de
Die Songs
Hier also Teasers von den 14 rough-mixes von RAW LOVE – hier und da kommt noch 'was zu oder weg, der Sound wird noch besser,  aber so  in etwa wird sich das Album anhören:
Das Album öffnet mit
TIRED OF THE TIMES – gleich zu Anfang ein Stück, das mit etwas abschliesst: Kurz bevor man die Seite umblättert, überfliegt man das eben Gelesene nochmal… Hier ist das Hinter-sich-lassen gemeint, das Sich-nicht-mehr-blenden-lassen von einer Welt, die den Bullshit, den Fake, den Tinnef anbetet. So beginnt der Liederreigen mit dem  desillusionierten Wunsch nach Einfachheit, Klarheit und Aufrichtigkeit.
Tired of the Times – mp3-teaser:
Weiter geht es mit dem Titelsong : RAW LOVE — 100% Roddy McKinnon — ein Song zwischen Pulp Fiction und Appalachia. Roddy sagt dazu: "Liebe ist blind und die falsche Art Liebe zieht dem, der blind liebt, die Haut ab. Aber anders will man es auch nicht haben. Man kennt die Geschichte."
Raw Love – mp3-teaser: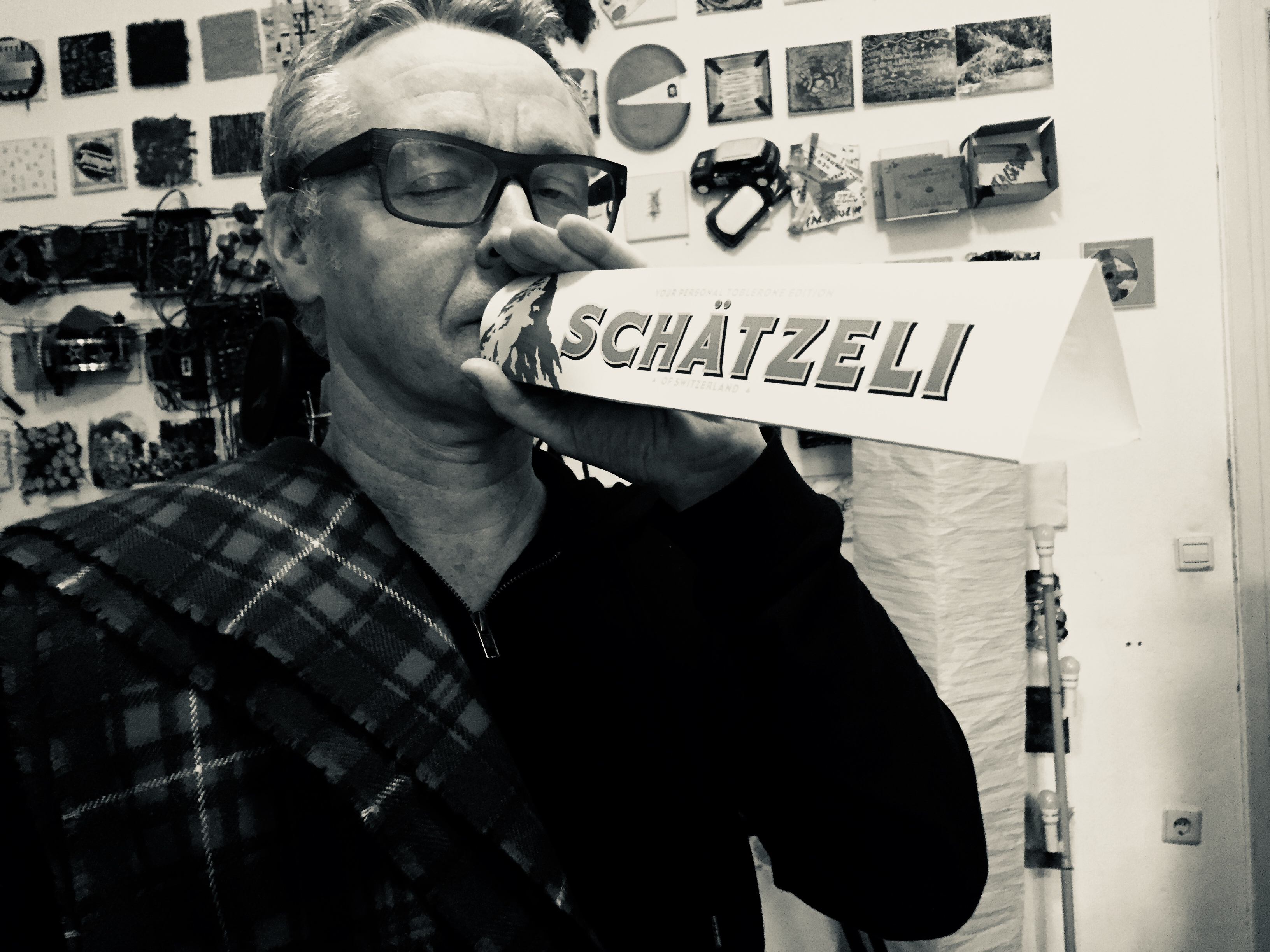 Un dann kommt GRABWÄRTS, eine Ballade in drei/vier: Obwohl der Titel etwas jenseitig klingen mag, geht es hier ganz lebensbejahend darum, was man mit der einem verbleibenden Zeit anstellt. Oder wie es im Song, frei nach Viktor Frankl heisst: "Was willst Du alles dir noch gefallen lassen — von dir?" Ein vorwärtsgerichteter Blick also. Aber einer ohne Illusionen über sich und die anderen.
Grabwärts – mp3-teaser:
In HAIRPIN blickt Roddy zurück : "Ich denke, dass unser Blick auf das Leben und den Tod häufig davon bestimmt wird, wie gesund wir in diese Welt hineingeboren wurden."
Hairpin – mp3-teaser:
LASS MICH EINFACH ist in gewissem Sinne George's Version von RAW LOVE. Der Wunsch, dass der oder die Andere einen "einfach" lässt. Altbekannt und ewig wahr: "It takes two to tango."
Lass mich einfach – mp3-teaser: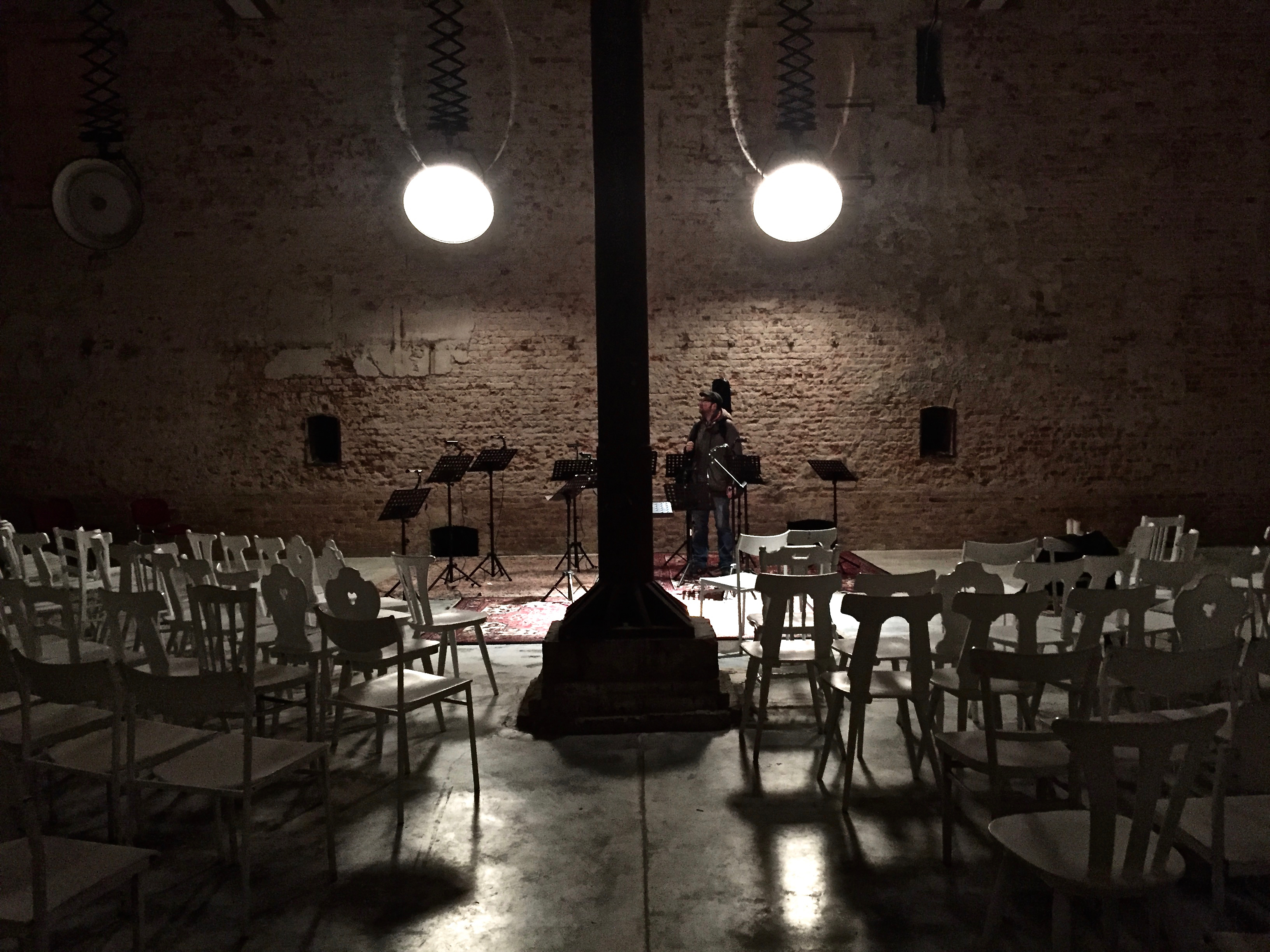 LONG GONE wiederum ist Roddy's Pendant zu GRABWÄRTS — nur das hier bereits – fröhlich fast – Abschied genommen wird. Roddy:"Keep fighting. Keep smiling. And above all, keep on living."
Long Gone – mp3-teaser: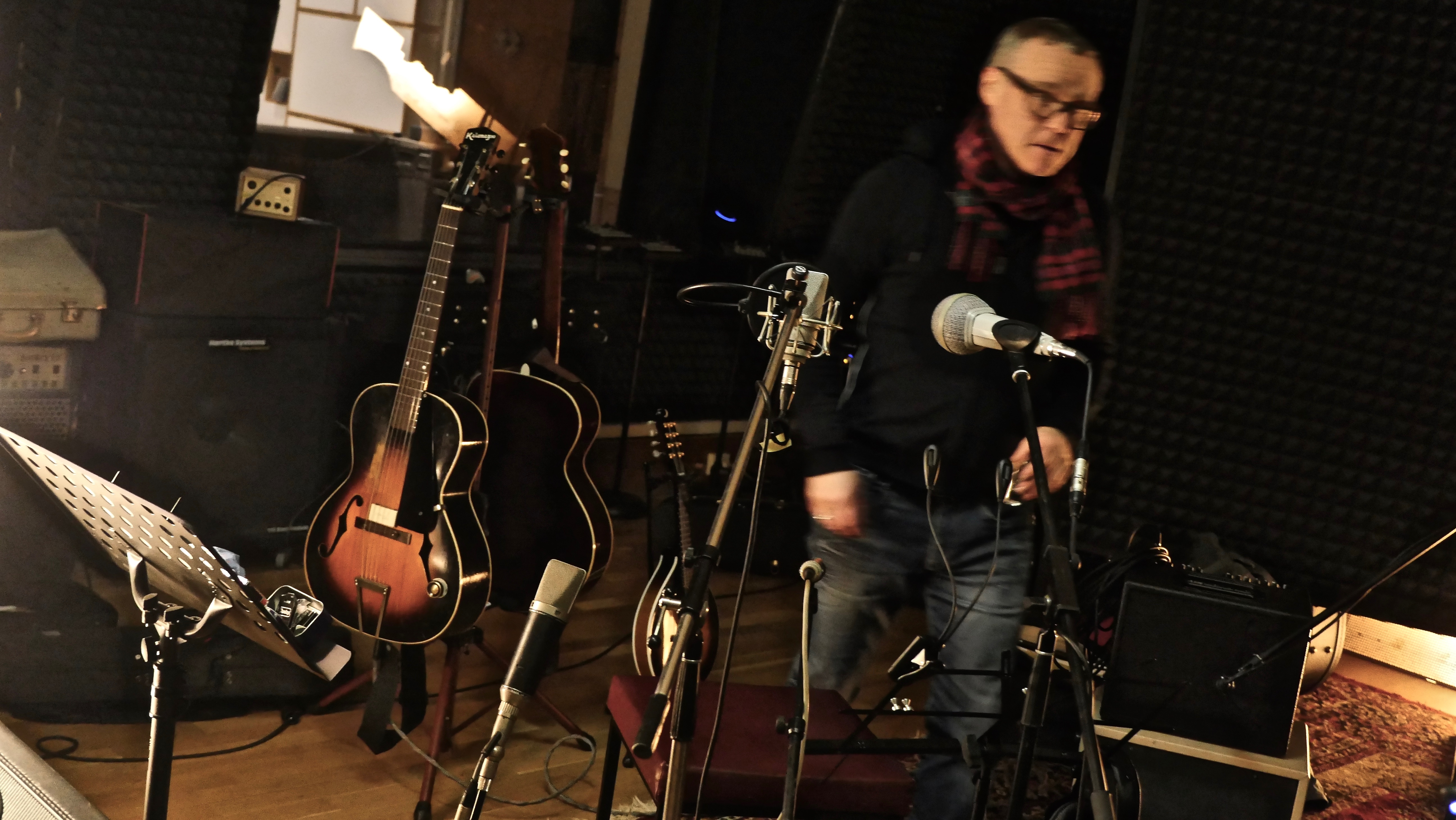 In SILENT SKIES sucht einer, des nachts unterwegs in einem abgerockten Willys-Jeep, mitten im sogenannten totalen Funkloch nach der einzigen Piste in und aus der Weissen Wüste heraus. Ein Stück darüber, wie laut die Stille sein kann, wenn man sich verliert.
Silent Skies – mp3-teaser:
George stiess durch Zufall während einer langen Autofahrt auf das GRAND HOTEL DESORIENTE, einen verfallenden, einst luxuriösen Ort, der die besten Tage lange hinter sich hat und an dem einen "die Zeit schweigend anspringt". Sämtliche Assoziationen zu unserem geliebten Europa wären an den Haaren herbeigezogen.
Grand Hotel Desoriente – mp3-teaser:
SLEEPY HEAD – Roddy sagt: "Auf französisch spricht man metaphorisch davon, dass man die Kompassnadel verliert – als sei die Kompassnadel in  ständiger Bewegung ohne Richtung – aber selbst wenn der Nordstern nicht mehr wüsste, wo es lang geht, so braucht es doch nur ein Lächeln und alles stimmt."
Sleepy Head – mp3-teaser:
Die erste Version von VORVORGESTERNMANN hiess noch Krawattenkötermann. Mit letzterem war ein gewisser wortgewandter Feuerteufel im Tweedjackett gemeint, der sich zuletzt gerne mit einer grünen Krawatte mit aufgestickten Retrievern talkshowfreundlich in Szene zu setzen wusste. Das Bild war zwar griffig, aber wir entschieden uns dann doch dafür, das Thema Hetze gegen Andersdenkende und/oder Menschen mit anderer Hautfarbe oder jene, die alles verloren haben und auf elementare Hilfe angewiesen sind nicht an einer einzigen Person festzumachen, sondern etwas weiter zu fassen.
https://www.sz-magazin.de/abschiedskolumne/der-untergang-85837
An dieser Stelle heissen Dank an unseren Freund Manfred Maurenbrecher dafür, dass er im Zwischenteil stimmlich unvergleichlich raubauzt – toll!
Vorvorgesternmann – mp3-teaser:
GUITARS & GIRLS – "Einfach ein Liebeslied darüber, was mich im Alltag umgibt. Viel mehr brauche ich nicht." Also sprach Roddy McKinnon.
Guitars & Girls – mp3-teaser:
WIEDER GESUND ist ein Song, der das knifflige Thema Vergebung mit einer lockeren, sonnigen Melodei verbindet, die gewissermassen zwischen den Zeilen sagt "Ich lasse es nicht länger zu, dass das, was mir ein paar miese Spiesser angetan haben, meine Lebensfreude ruiniert." Nicht ganz einfach, aber eine Möglichkeit, das eigene Leiden wenigstens nicht noch zu verdoppeln.
Wieder gesund – mp3-teaser:
WORLD OF THIEVES – Roddy: "Keine Toleranz gegenüber Ungerechtigkeit. Wir habe alle die Pflicht, nicht zu schweigen. Schweigen heisst dulden."
World of Thieves – mp3-teaser:
Der Bonustrack
Wie eingangs bereits erwähnt, ist HARTE MÄNNER WEINEN ein Lied unseres kürzlich verstorbenen Freundes Andreas Schmidt, welches seine Freunde und Kollegen bei dessen Beisetzung in Berlin sangen. Manche waren bis ganz zuletzt bei ihm, manche irgendwo in der Welt unterwegs und nicht wenige hatten sich jahrelang nicht mehr gesehen. Und doch waren so viele gekommen, um von diesem grossartigen Kerl Abschied zu nehmen – und was für ein Abschied das war! Ein grosses Kompliment an Olli Klatt und Warner Polands Band und die feinen, lustigen, tief berührenden Worte. Und an Eoin Moore, der u.a. im Eiszeit-Kino eine wunderbare Feier zu Ehren von Andreas auf die Beine stellte.
George: "Andreas ich hatten uns im Frühjahr '85 während der Produktion "Schleudergang" am Stadttheater Dortmund kennengelernt und später in Berlin zusammen in der Solmsstrasse in Kreuzberg 61 gewohnt und gearbeitet.
Unsere Rimbaud-Produktion, die Filme, die Bukowski-Abende im damaligen Kroll-Theater in der Merseburger Strasse  und unsere nächtelangen Gespräche über Musik, Songschreiben, Film und Theater bleiben mir unvergesslich. Er war einer der positivsten, tiefsten und unbestechlichsten Menschen, die ich je kennengelernt habe. Und in vielen Situationen ein echter Freund."
Roddy und George hatten bereits die Aufnahmen zu RAW LOVE in Berlin geplant und so lag es nahe, Andreas eine kleine Hommage zu widmen und
möglichst viele Freunde im Studio zu einer Session zusammenzubringen.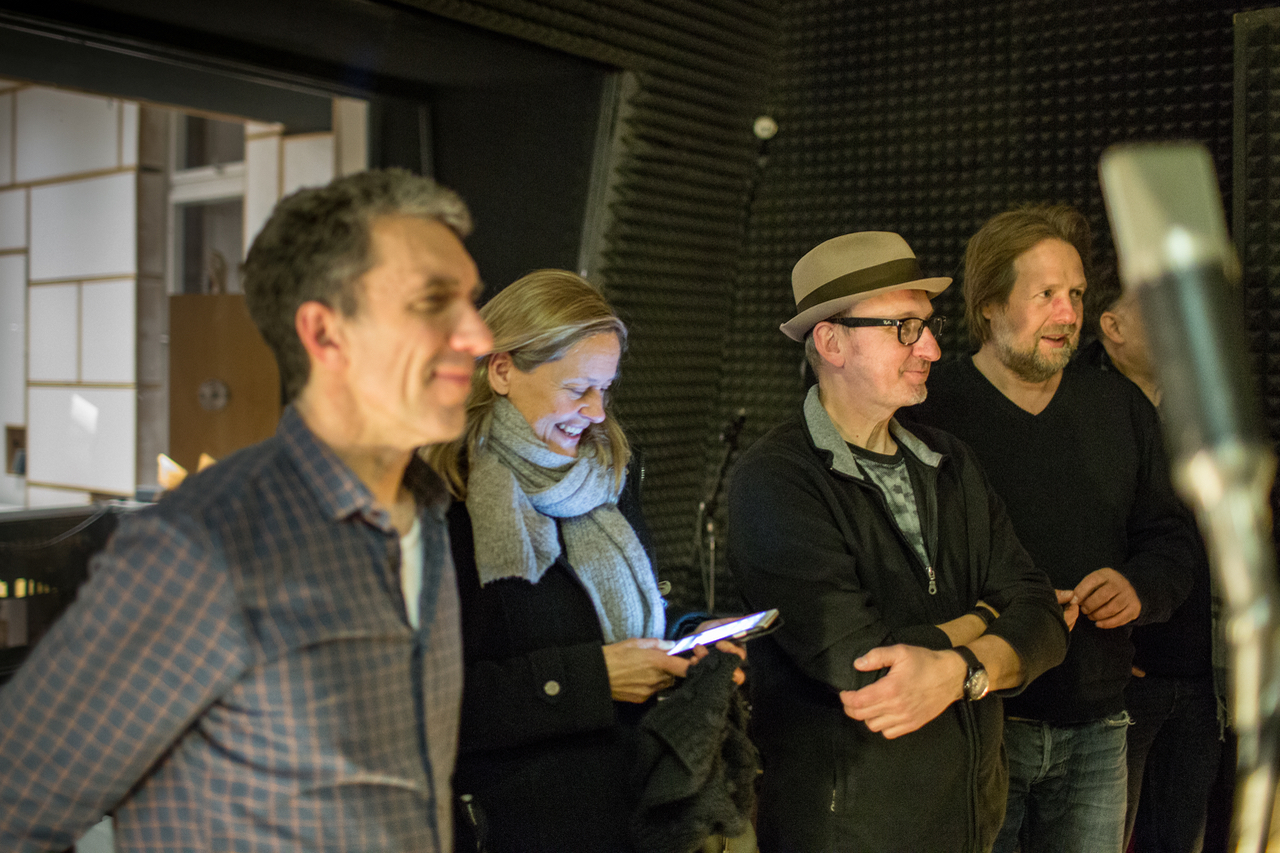 Und da Andreas das Leben, das eigene wie das der anderen, liebte und auch selten einer Feier aus dem Wege ging…
…haben wir  HARTE MÄNNER WEINEN…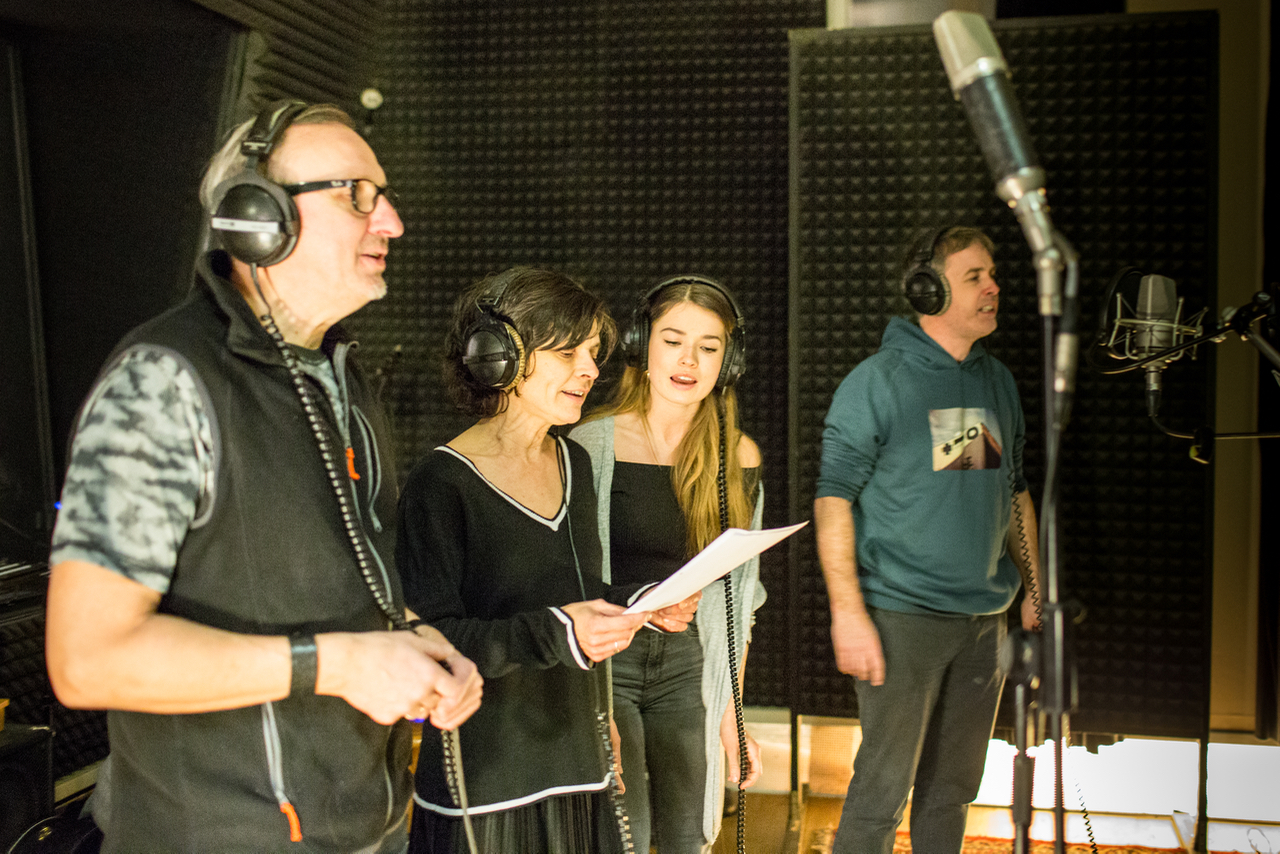 …so aufgenommen, wie wir dachten, dass es ihm gefallen könnte: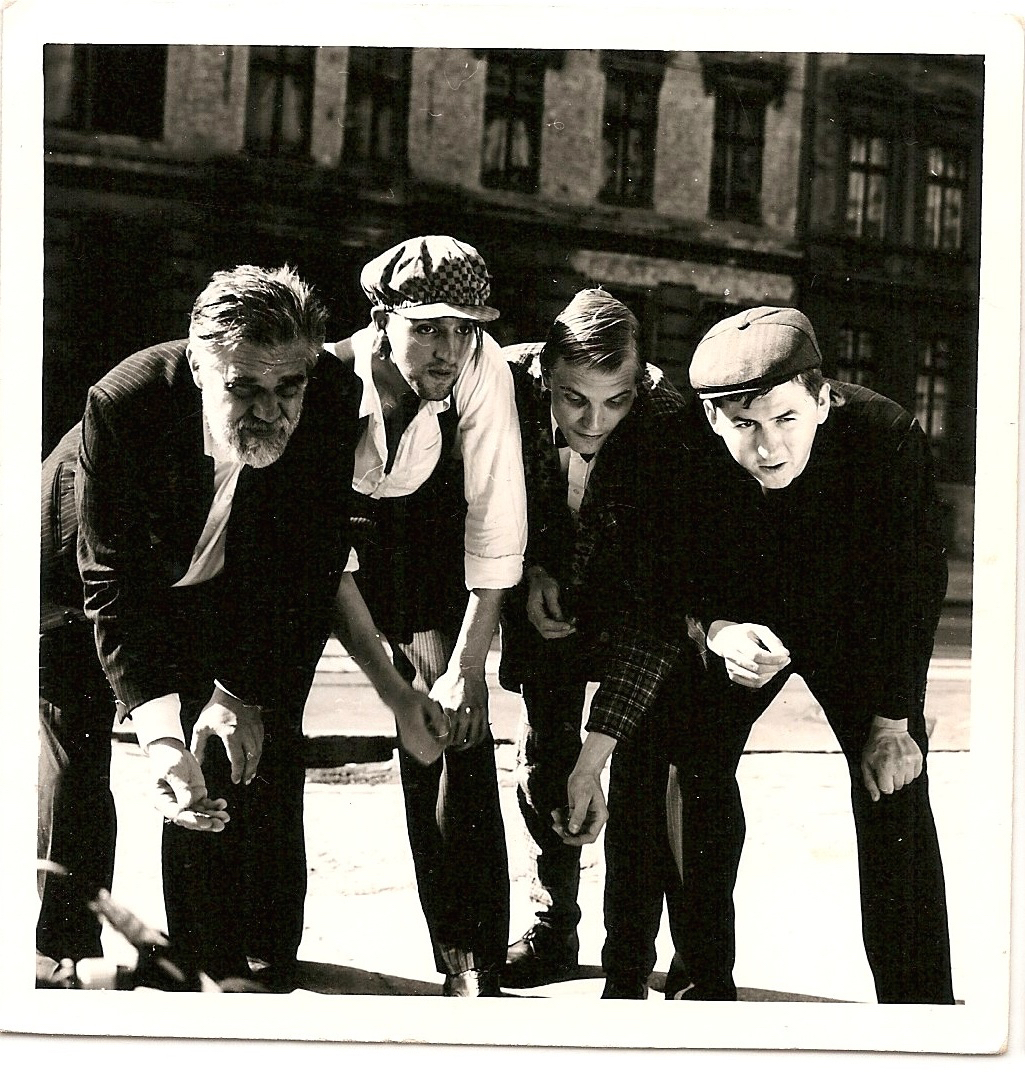 Schmalzlos, raw und herzlich.
Harte Männer weinen – mp3-teaser:
In diesem Sinne: This is RAW LOVE !
George Leitenberger & Roddy McKinnon, Berlin im Sommer 2018
*
Die Instrumente
Auf RAW LOVE spielen:
George Leitenberger — 1964 Gibson J 50, 1942 Southern Jumbo replica von Blazer & Henkes, 1994 Gibson J 200, alle mit LR Baggs Magnettonabnehmer, Epiphone 5-string Banjo, Hohner-Bluesharp, Fano Alt de facto Stromgitarre mit Fender Blues Junior Wüstenwindheuler ohne Effektgeräte.
Roddy McKinnon — 1936 Kalamazoo Archtop mit Framus single coil, 1939 Recording King M2 Archtop, 1919er Gibson F4 Mandoline, Moon A&E Mandoline mit Fishman,1964er Gibson J 50, Hohner Primatona IV Akkordeon, Fano Alt de facto Stromgitarre mit Fender Blues Junior Wüstenwindheuler mit Ibanez Tube Screamer und Cry Baby Waah Waah.
SCROLL FURTHER DOWN FOR ENGLISH VERSION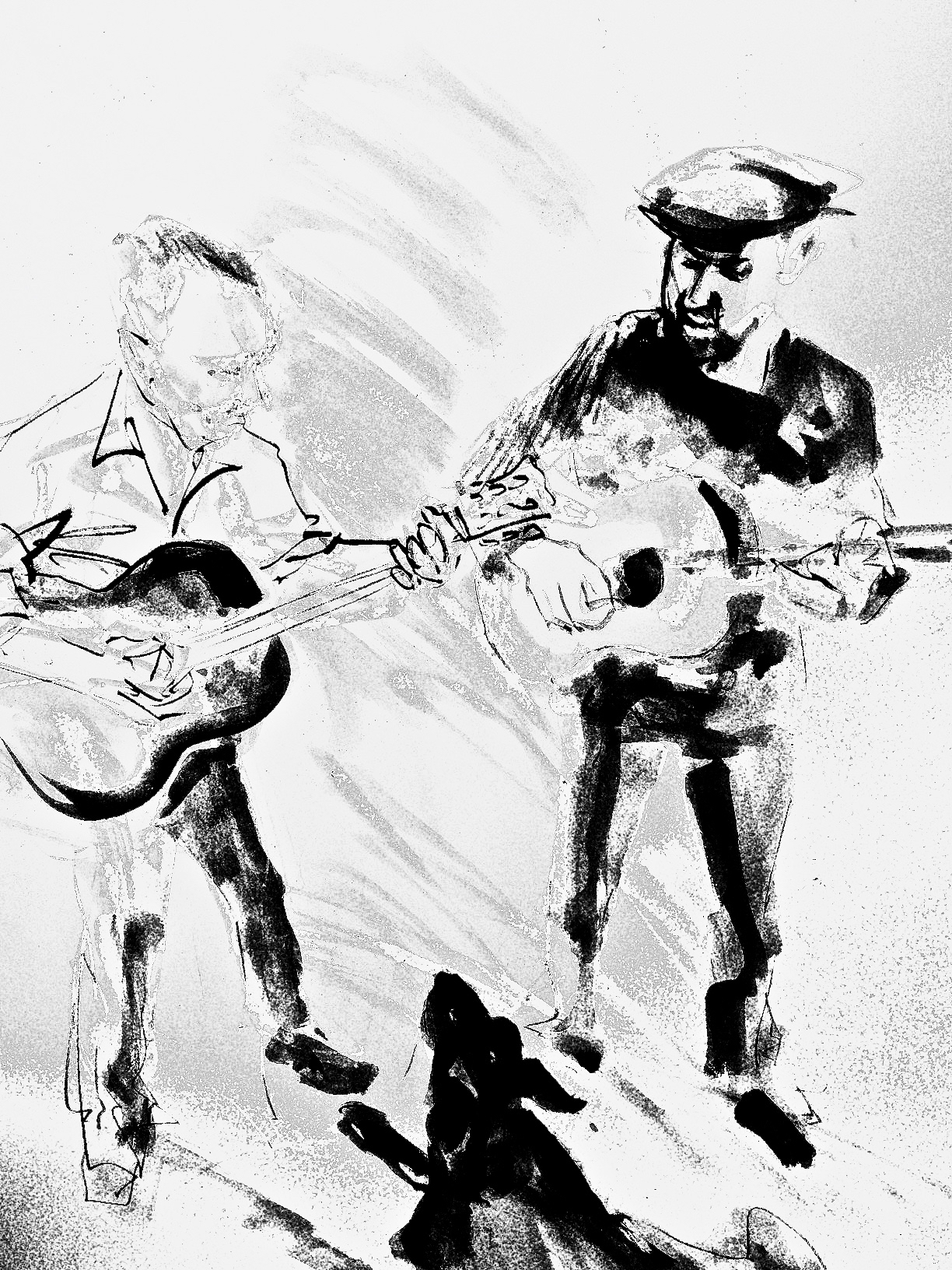 4 ENGLISH VERSION: THE MAKING OF 'RAW LOVE' WITH SONG SAMPLES
George Leitenberger & Roddy McKinnon have just recorded their first album as a duo with guest musicians : RAW LOVE
RAW LOVE was produced by Andreas Albrecht, a true gentleman. www.andreasalbrecht.com
Andreas Albrecht                                              Photo:  George Leitenberger
Cut an album in five days
Our idea was to record a raw yet great sounding record within five days, with solo, duo, and trio song arrangements as well as one tune with an entire band. This was all to be done using limited studio time, which encouraged spontaneous playing and quick decisions while leaving some of the fancier bells and whistles on the side line – just RAW love.
Why?
"Only death is perfect" is what they say. And this strange friend would already be occupying a lot of space in the songs themselves … and that's the reason why we chose not to let the songs or the sound of the recording go that way too. That's why we decided that we were going to make the most of our time with friends and colleagues in what is an extraordinary Gothic sort of a place: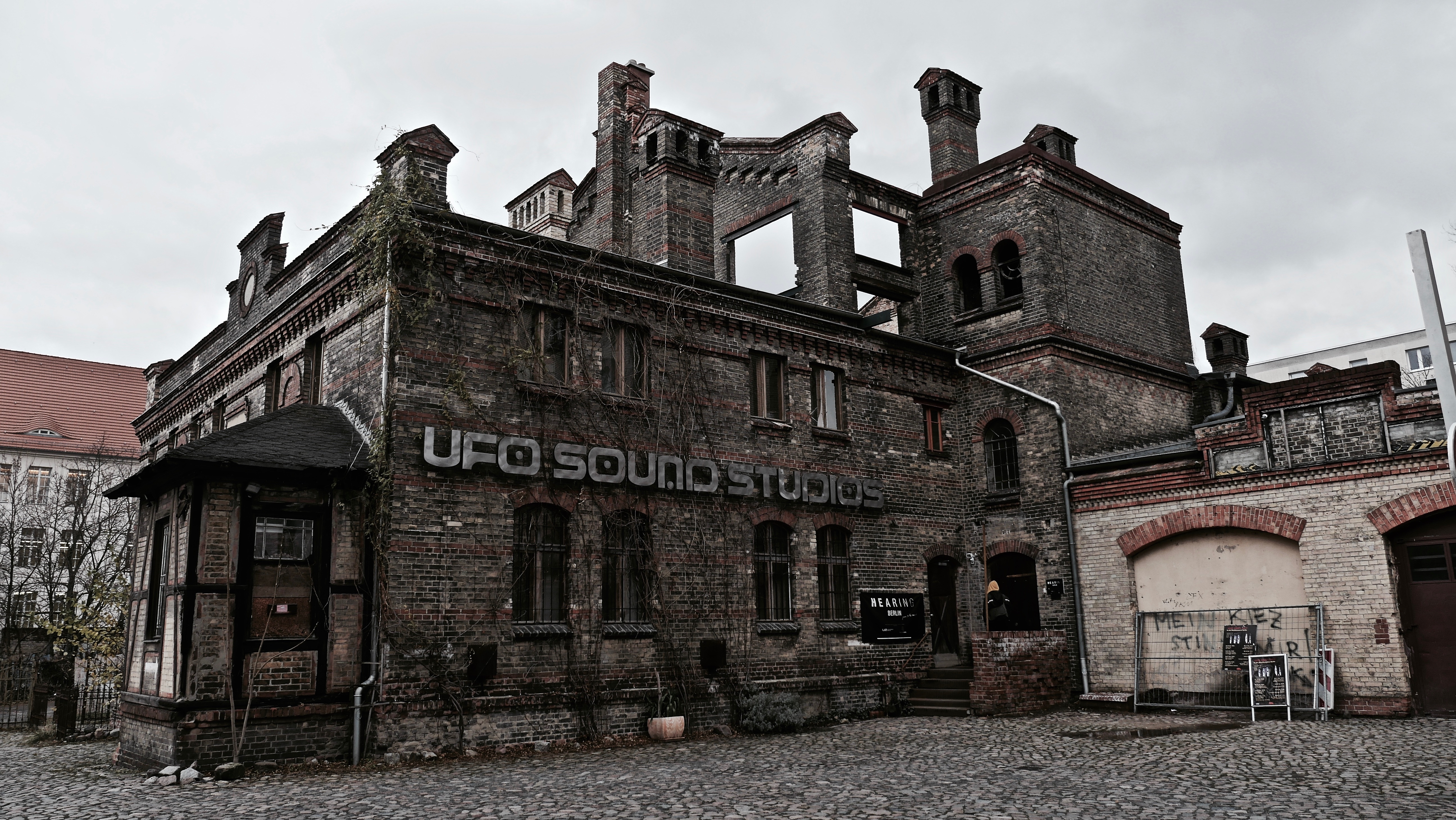 … a remarkable recording studio in Berlin-Friedrichshain, where we recorded everything live, direct, raw, warts and all. 6 songs by Roddy, 7 by George and one title by the late great Andreas Schmidt, an old friend from the Berlin days and nights, a guy hungry for life, an actor of great talent and a special songwriter too – "who managed somehow to make all our lives a little bit greater" – Olli Klatt.
GEORGE LEITENBERGER & RODDY McKINNON
"RAW LOVE"
Where did this story start?
Geneva, Jonction neighbourhood. Just right there, where the two rivers meet, the Rhône and the Arve, right there at the "junction", it was there of all places that Roddy and George met in an old factory turned cultural hot-spot. Two musicians from different backgrounds: Roddy McKinnon from Glasgow and George Leitenberger from Berlin, two singer-songwriters washed up on the shores of Lake Geneva by work and love and musically at home, not to mention being comfortable playing in a plethora of styles and broaching topics without boundaries. After a couple of gigs together it was patently obvious that these two would be staying together with the objective of writing and performing unique songs, and so it was in various line-ups – and that they would sing in English, German and French, the three languages that envelope their private and professional lives on a daily basis.
George and Roddy have discovered a hungry fascination and eagerness to learn from each other's musical backgrounds: As far as Roddy is concerned the influences are rock-n-roll, punk rock and blues, the jubilant joy and the profound melancholic beauty of Celtic music, which feed into his dry, personal "no frills" guitar style and his lyrics without compromise; George is heavily influenced by American, German and Canadian singer-songwriters, Brecht/Weill's 1920s stage songs and Mississippi delta blues, by romantic jazz tunes as well as by topical and timeless protest songs from the 60s.
After Roddy had already contributed both as a guitarist and a mandolin player to George's last solo-CD "AUTOVÍA" (2016), which got showered with critical acclaim ("Outstanding", "Fabulous", "Superb" etc.) and having plenty of shows with various musicians in Switzerland, France and German under their collective belt, George and Roddy hit the UFO Sound Studios in Berlin for a working-week to finally record what had become the obvious thing to do: cut  their first album in English and German as a duo: RAW LOVE!
The sound
"What we intended to do was to record a singer-songwriter-album with a 1950s sound, like you would normally find on jazz labels, such as Blue Note or Verve: naked, with an absolute minimum of plug-ins, all unplanned idiosyncrasies and fumbled notes would be kept – they would not be washed down the drain."
"We were led by a craving that our vintage instruments should sound the same on record as they do in our hands: warm, woody, earthy, raw and deep – just like RAW LOVE. Our producer Andreas Albrecht understood instantly what we were looking to capture, and succeeded, exceeding our expectations in many ways."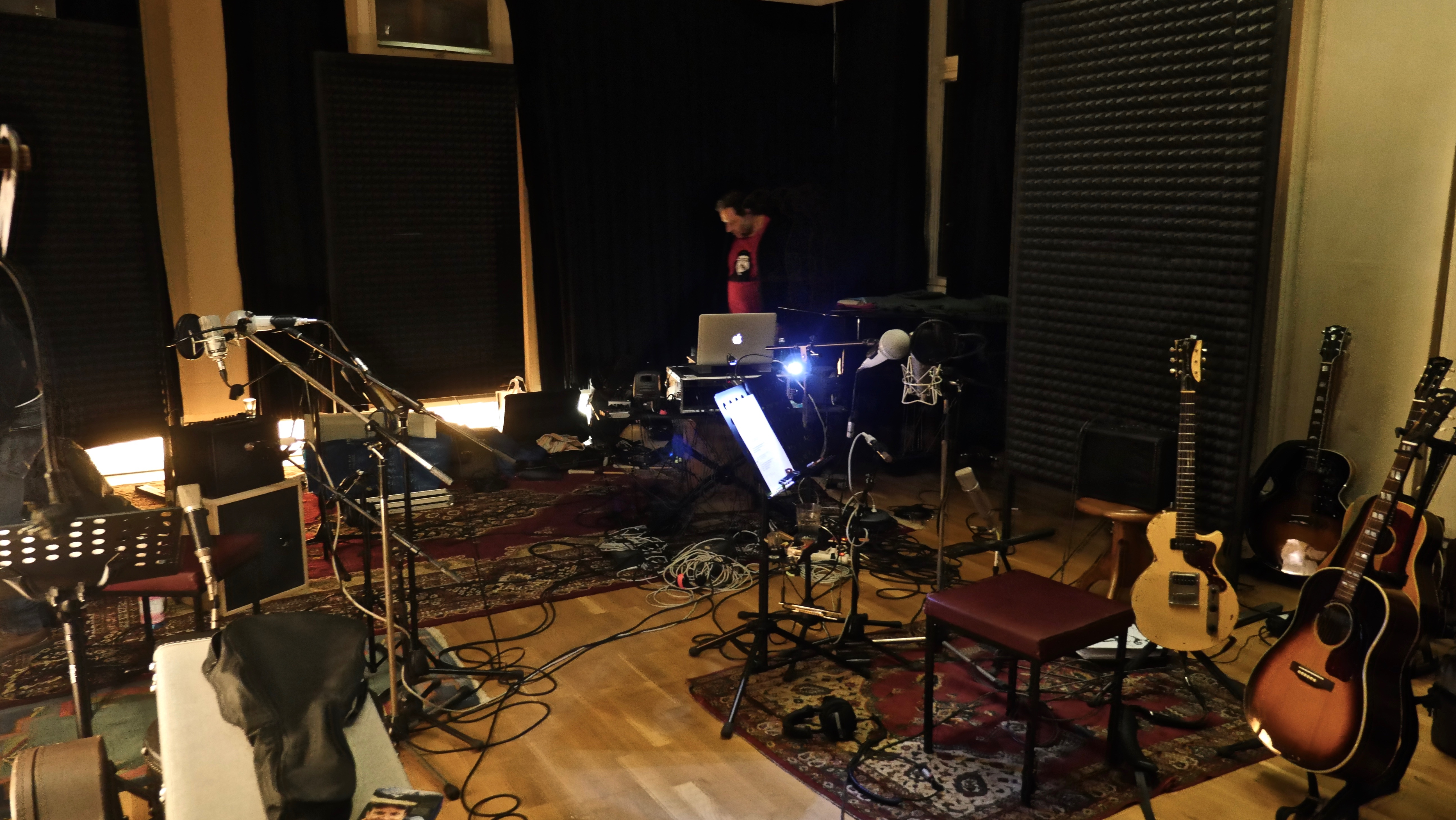 The songs of RAW LOVE confront the sensitive questions of mortality, intrigues and treason, of losing and finding yourself, of love, raw love and her opposite. But before we'll go into more detail about the individual tunes we'd like to talk a little about the production itself and its musicians.
Before all, the album is clearly a duo-thing. We wanted that the duo that George and Roddy have been running for five years should be "present" all over the record and not be buried under too many other instruments and voices. With today's technological possibilities this is probably the biggest temptation which, in our opinion, a lot of musicians and producers give in to: over-production. Nothing is simpler than to inflate songs, make them "grand" and "fat" – and by doing so – fail in style, big time. Innumerable great songs sound really good in the rehearsal room (but of course never really "perfect") and suffer the same destiny once finally recorded.
We love simple and well-made things, no matter what it is – and if there is one basic line of thought running through RAW LOVE from start to finish, it's a search for straightforwardness, transparency and serenity.
The musicians
With the exception of the last song, the bonus track, which – with Andreas in mind – was arranged and performed differently, you will not find any drums and very little classic song arrangement. And still, on a good half of the songs there are colleagues and friends playing, whose musicianship added just that necessary little bit of extra in sound and feeling:
Andreas Albrecht produces and plays drums and Hammond B3 on HARTE MÄNNER WEINEN, piano on SILENT SKIES and sings backings on GRABWÄRTS.
Klaus Eichberger plays accordion on WIEDER GESUND and GRAND HOTEL DESORIENTE
Tobias Fleischer plays electric and double-bass on RAW LOVE, GRABWÄRTS, VORVORGESTERNMANN, LASS MICH EINFACH and HARTE MÄNNER WEINEN
Andrea Katzenberger sings backing-vocals on RAW LOVE, GRABWÄRTS, VORVORGESTERNMANN and HARTE MÄNNER WEINEN
Olli Klatt plays electric guitar on HARTE MÄNNER WEINEN and is centre-forward in the choir for HARTE MÄNNER WEINEN
Manfred Maurenbrecher sings the unforgettable middle 8 on VORVORGESTERNMANN
Sebastian Pietsch plays tenor saxophone on LASS MICH EINFACH, HAIRPIN, VORVORGESTERNMANN and HARTE MÄNNER WEINEN
And, on the bonus track, WENN HARTE MÄNNER WEINEN by Andreas Schmidt, his friends form the most exceptionally gifted choir east of the Salt'n Bone Bar: Peter Baumeister, Andrea Katzenberger, Thomas Karg, Oliver Klatt, Stefan Lochau, Bernd Löhr, Zoe Moore, Eoin Moore, Steffen Münster, and Elke Weber-Moore.
The studio
The UFO Sound Studios are located in Berlin-Friedrichshain www.ufo-studios.de
The songs
So here come the teasers of 14 rough mixes of RAW LOVE that give you an idea of what the final album sounds like:
The opener is
TIRED OF THE TIMES –  to begin with, a tune that rounds something off: just before you turn the page, you go over again the words you've just read … what we had in mind here is an end, to leave things behind, to not fall anymore for a world in which fake and bullshit are worshipped. That way, this set of songs kicks off with the wish for an end of fake and bullshit.
Tired of the Times – mp3-teaser:
Next up is the title track: RAW LOVE – 100% Roddy McKinnon, this is a song between Pulp Fiction and Appalachia. Says Roddy: – "Love is blind, and the wrong sort of love will see the blind lover skinned. But you wouldn't have it any other way. You know the story".
Raw Love – mp3-teaser: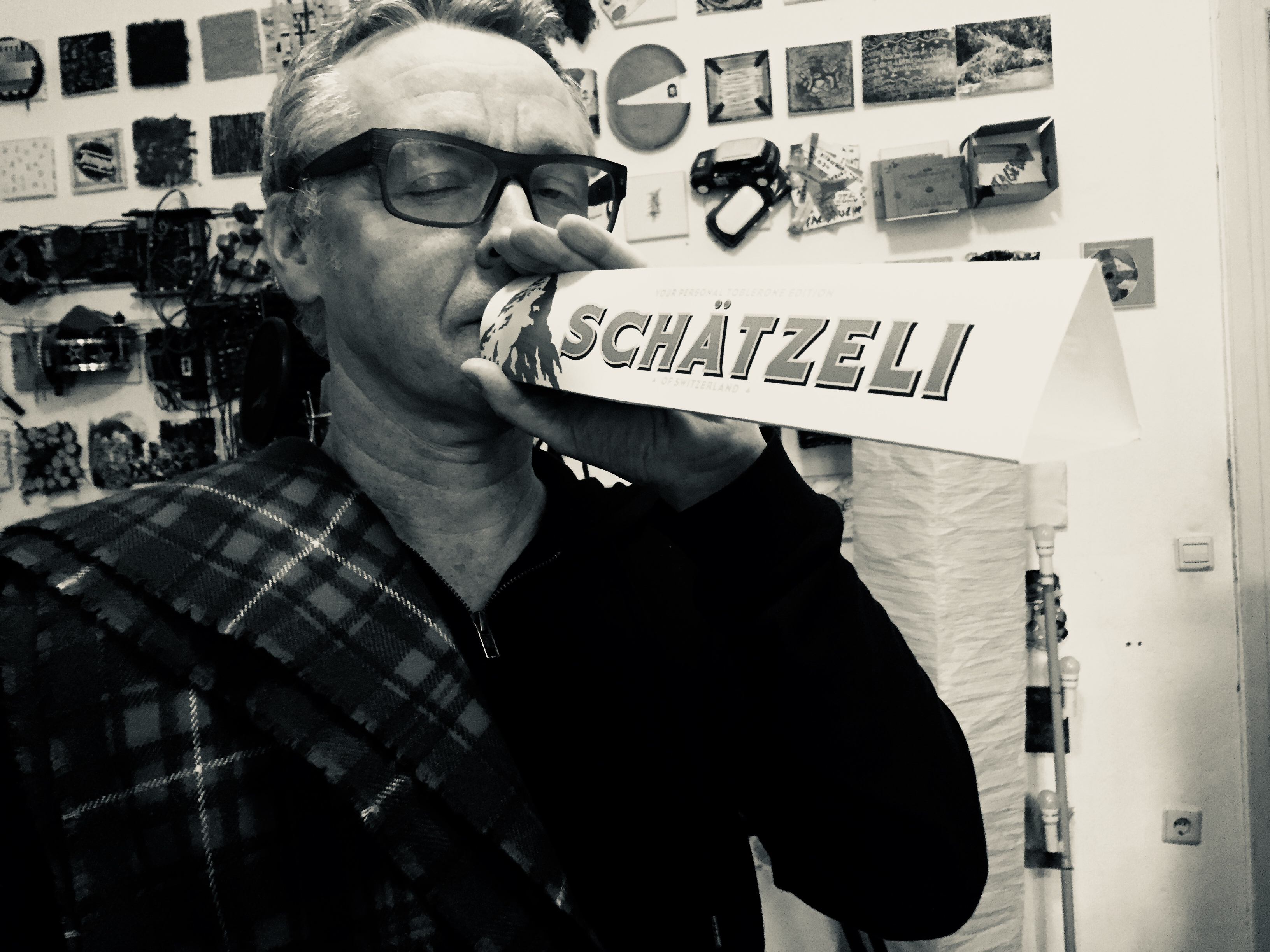 And here comes GRABWÄRTS, a ballad in ¾ time: Although the title (GRAVEBOUND) might sound somewhat morbid the topic is actually the time you've got left and the responsibility towards yourself that comes along with this. In other words, based on Viktor Frankl's famous quote, "How much do you let yourself get away with?" So a forward-looking song, but one without any illusions about oneself and others.
Grabwärts – mp3-teaser:
In HAIRPIN Roddy looks back: "Attitudes to how we live and tempt a future death are often shaped by how healthily we were born into this world, I think".
Hairpin – mp3-teaser:
LASS MICH EINFACH – in a certain way this is George's version of RAW LOVE – the longing that the other one leaves you "simple": As they know in Buenos Aires "It takes two to tango."
Lass mich einfach – mp3-teaser: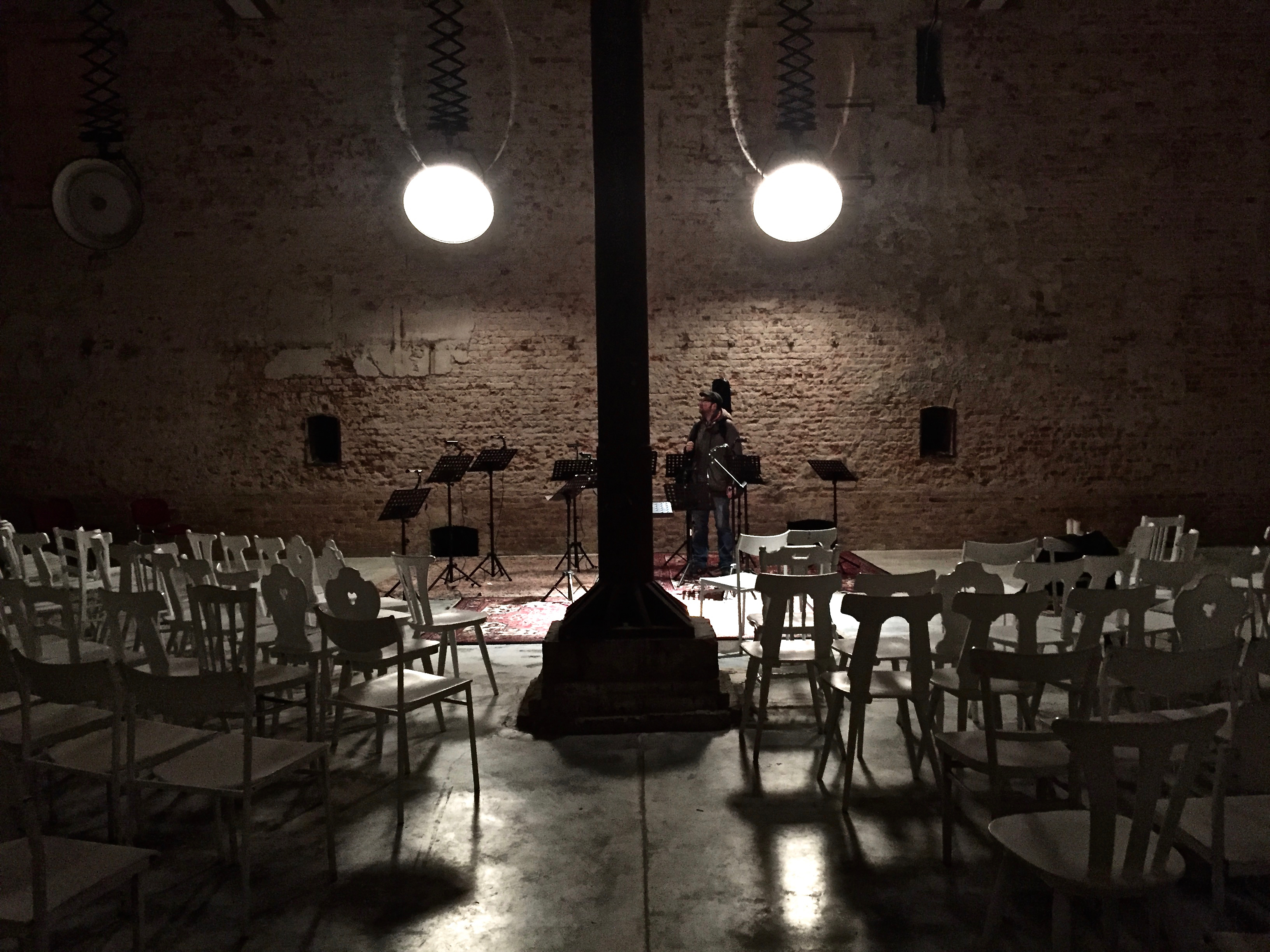 LONG GONE, in turn, is Roddy's counterpart of GRABWÄRTS , with the difference that here the good-byes are almost of a happy nature. Says Roddy: "Keep fighting. Keep smiling. And above all, keep on living."
Long Gone – mp3-teaser:
In SILENT SKIES someone is getting lost in the desert in an old Willys, there is no more network, and he is wondering why the only existing road out of the desert might have disappeared. A tune about the thundering sounds of silence.
Silent Skies – mp3-teaser:
During a long car-drive George happened to come across the GRAND HOTEL DESORIENTE, a derelict once luxurious place, its best days way gone, where time attacks you in a silent way. Any allusions to our beloved Europe would be, of course, far fetched.
Grand Hotel Desoriente – mp3-teaser: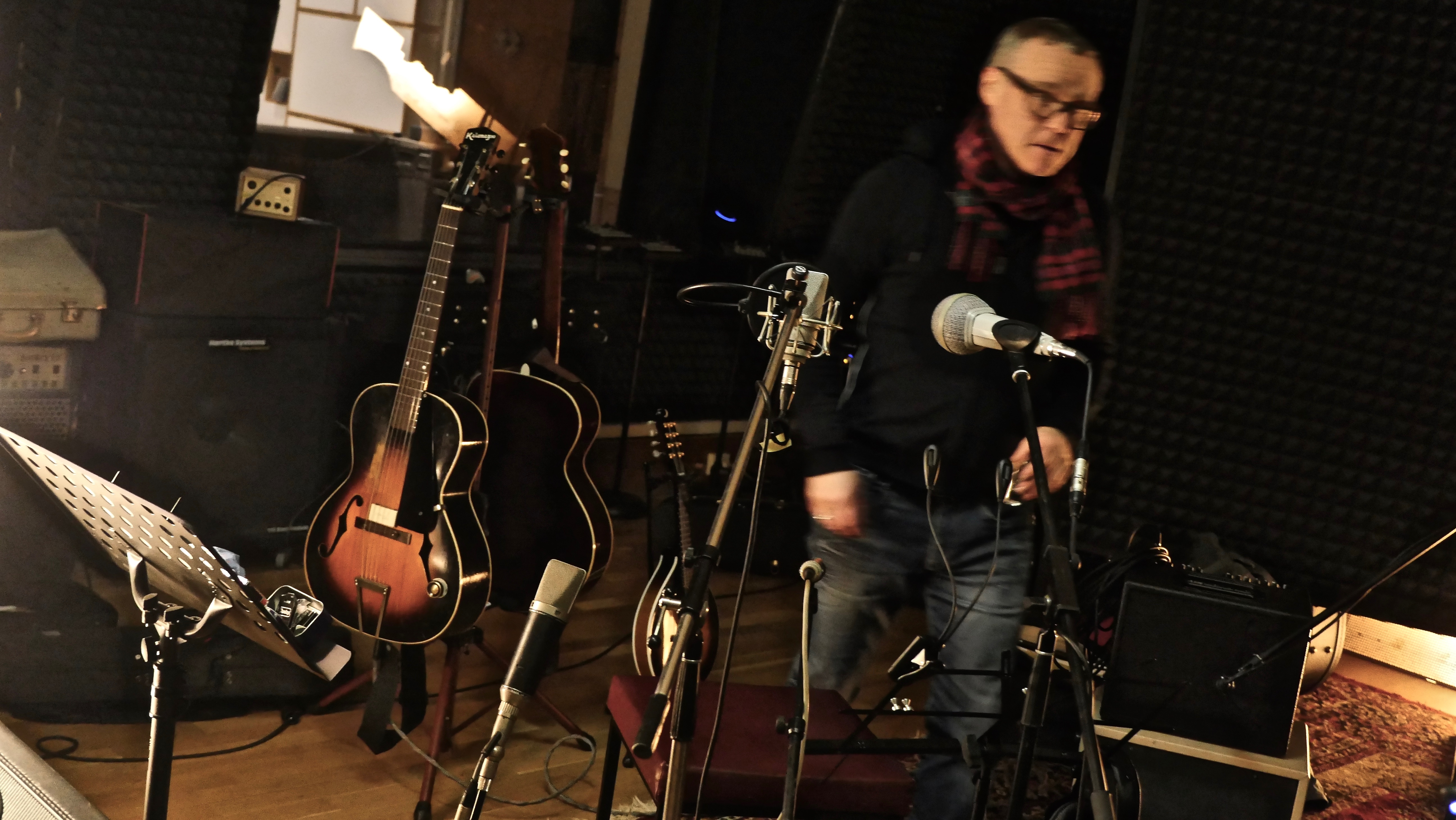 Roddy McKinnon                                                                                              Photo: George Leitenberger
SLEEPY HEAD  – Roddy says "in French they talk metaphorically about losing the needle of the compass, as if the compass needle is in a chaotic perpetual directionless spin; yet, even when it feels like our seasons, like our weather and even the North star have lost their way, it takes only one smile and everything falls into place.
Sleepy Head – mp3-teaser:
The first version of VORVORGESTERNMANN was called Krawattenkötermann. The latter is a certain German right-wing politician who has lately quite often been seen sporting a green tie with an embroidered image of Golden Retrievers; one can only imagine all the dog tricks of his ugly trade. Although the imagery is catchy, we decided not to attach to it the topics of xenophobia, dissidents, people with a different skin, etc., or even to those who  have lost everything and therefore are  in complex dependency needs. We  therefore decided to take a wider approach: "Vorvorgesternmann" would roughly translate into "Before-Yesterday's-Man.
https://www.sz-magazin.de/abschiedskolumne/der-untergang-85837
At this point we would like to express a big THANK YOU to our friend and colleague MANFRED MAURENBRECHER for lending his inimitable gnarl to the song's middle-8 – FAB!
Vorvorgesternmann – mp3-teaser:
GUITARS & GIRLS – "Simple: a love song about the things that surround me daily. I don't need much else" thus spoke Roddy McKinnon.  
Guitars & Girls – mp3-teaser:
WIEDER GESUND is a song which is makes the link between the tricky issue of forgiveness and  a sunny upbeat melody, explaining somehow between the lines "that I won't allow some rotten tiny shitty people to ruin my zest for life". Not always that easy to achieve, but a timely reminder that we do have the possibility to not double our own suffering.
Wieder gesund – mp3-teaser:
WORLD OF THIEVES – "Injustice is intolerable. We all have a duty to not remain silent. To be silent is to condone". Roddy says.
World of Thieves – mp3-teaser:
The bonus track
As indicated above, HARTE MÄNNER WEINEN is a song by Andreas Schmidt, an old friend who recently passed away. Family, friends and colleagues were singing the song during the funeral ceremony in Berlin. George: "Andreas and I became friends in 1985 during the "Schleudergang"-production at the Schauspielhaus, Dortmund, and later we were flatmates and worked together in Solmsstrasse, Berlin Kreuzberg. Our Rimbaud-production, the films, the Bukowski-evenings at Kroll-Theatre in Merseburgerstrasse and our night-long talks about music, song writing, film and theatre are a big part of an unforgettable time.
He was one of the most positive, deepest yet funniest and incorruptible characters I have ever met. And in many situations he was a genuine friend.
Roddy and George had already planned the recordings in Berlin and therefore it suggested itself to pay tribute to Andreas and record one of his tunes.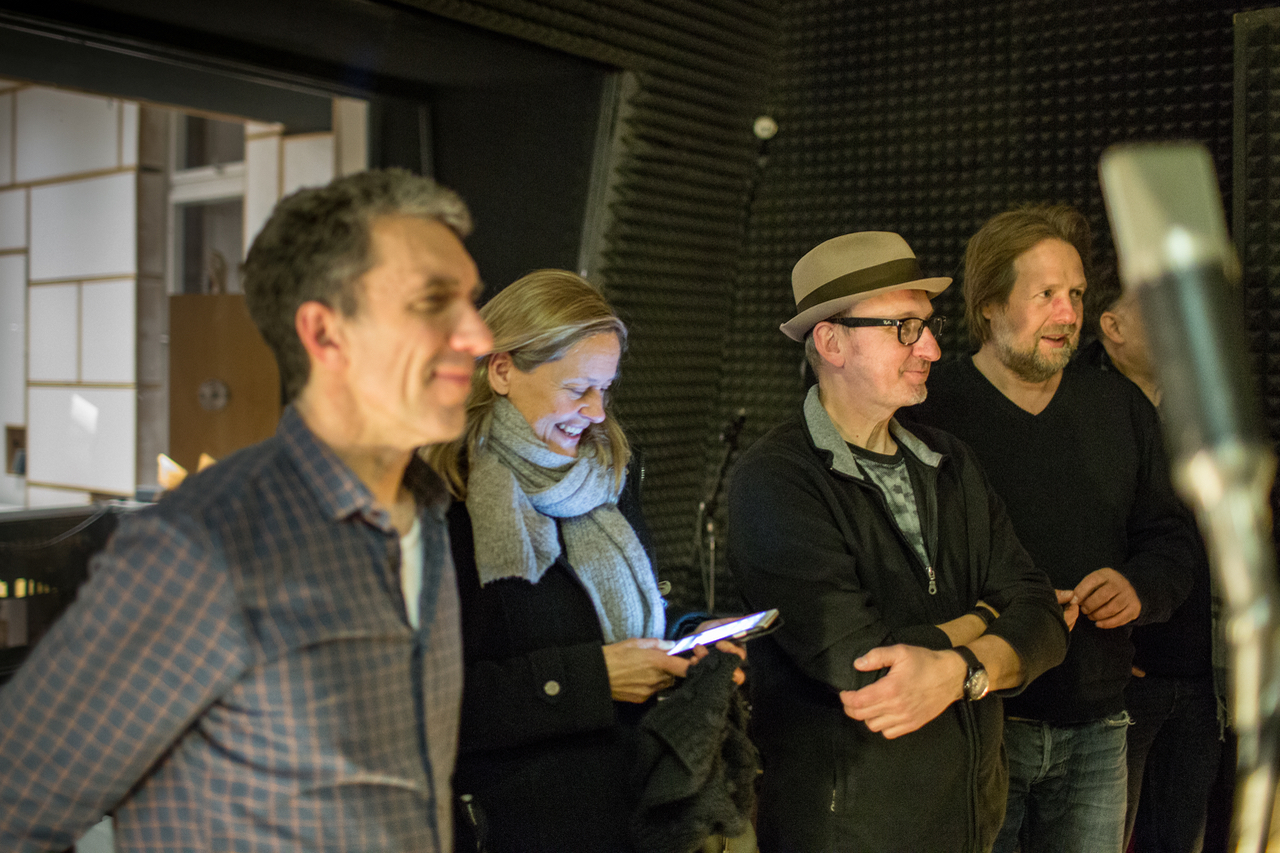 To lay down the song HARTE MÄNNER WEINEN we were joined in the studio by many of his long-time friends.
And since Andreas truly loved life, his own as well as those of others, and rarely missed an opportunity to party…
…we recorded  his song…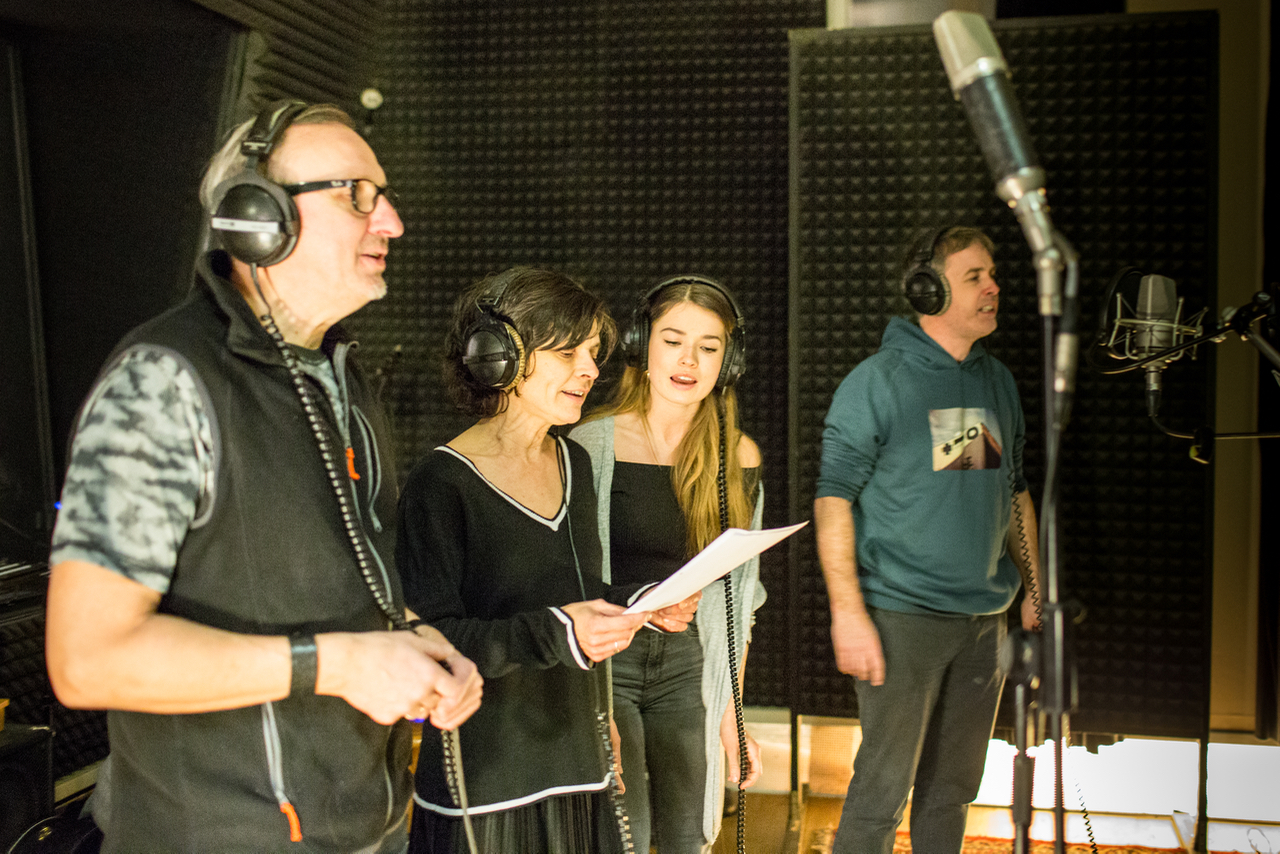 …the way we think he would have loved it: As a musical jamboree – dry, raw and full of heartbeat.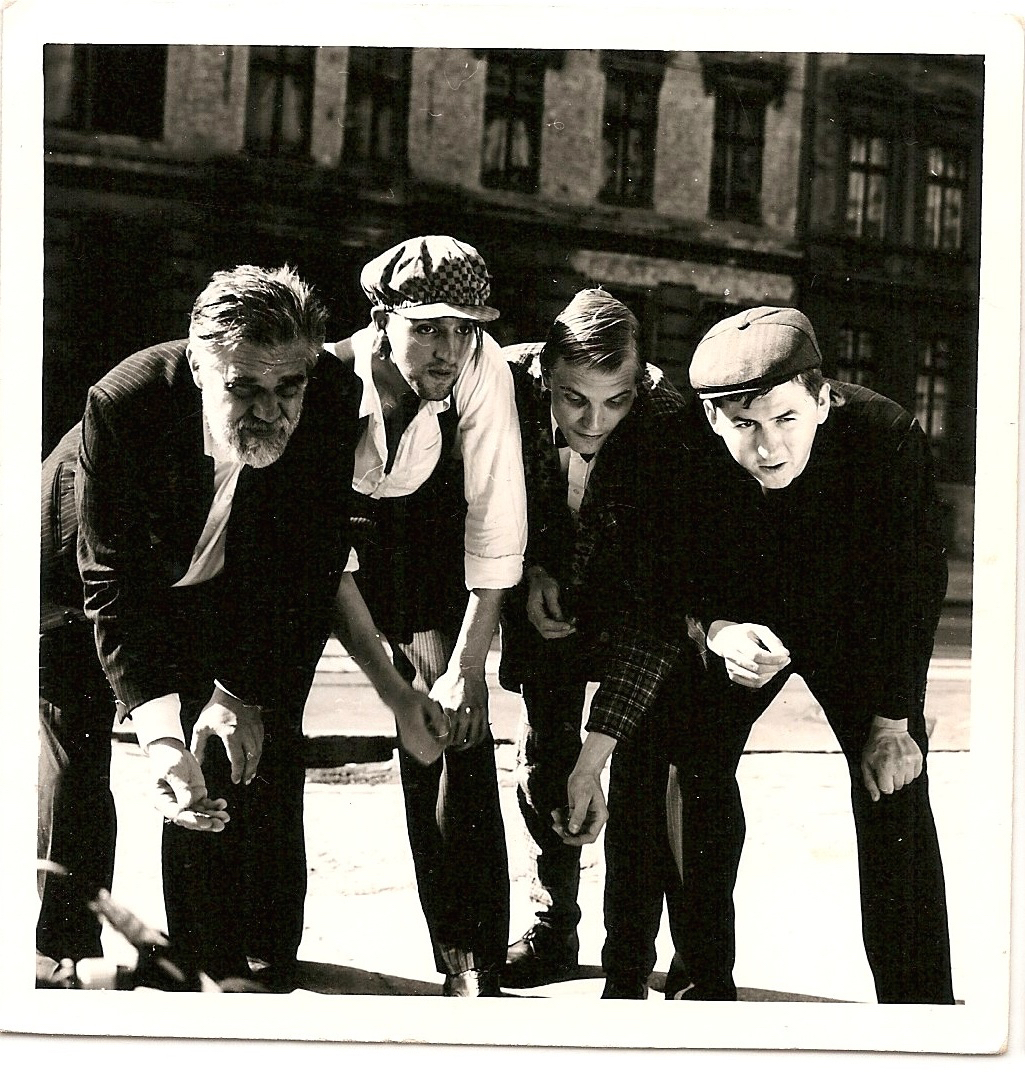 With this in mind: This is RAW LOVE
George Leitenberger & Roddy McKinnon, summer of 2018
5 ABOUT THE INSTRUMENTS
On RAW LOVE you can hear:
George Leitenberger — 1964 Gibson J 50, 1942 Southern Jumbo replica by Blazer & Henkes, 1994 Gibson J 200, all with LR Baggs magnetic pick-up , Epiphone 5-string banjo, Hohner-Thunderbird harp, Fano Alt de facto electric guitar with Fender Blues Junior with no additional effect-devices.
Roddy McKinnon — 1936 Kalamazoo Archtop with Framus single coil, 1939 Recording King M2 Archtop, 1919 Gibson F4 mandolin, Moon A&E mandolin with Fishman, 1964 Gibson J 50, Hohner Primatona IV accordion, Fano Alt de facto electric guitar with Fender Blues Junior, driven a little harder by a vintage 1980s Ibanez Tube Screamer and Cry Baby Wah Wah.